We're located within walking distance to great shops, dining and entertainment in downtown Gatlinburg!
Whether you're looking for a great place to eat or a fun attraction to visit, Olde Gatlinburg Rentals is near all of the fun! Take a look at some of our favorite things to do in Gatlinburg and Pigeon Forge below.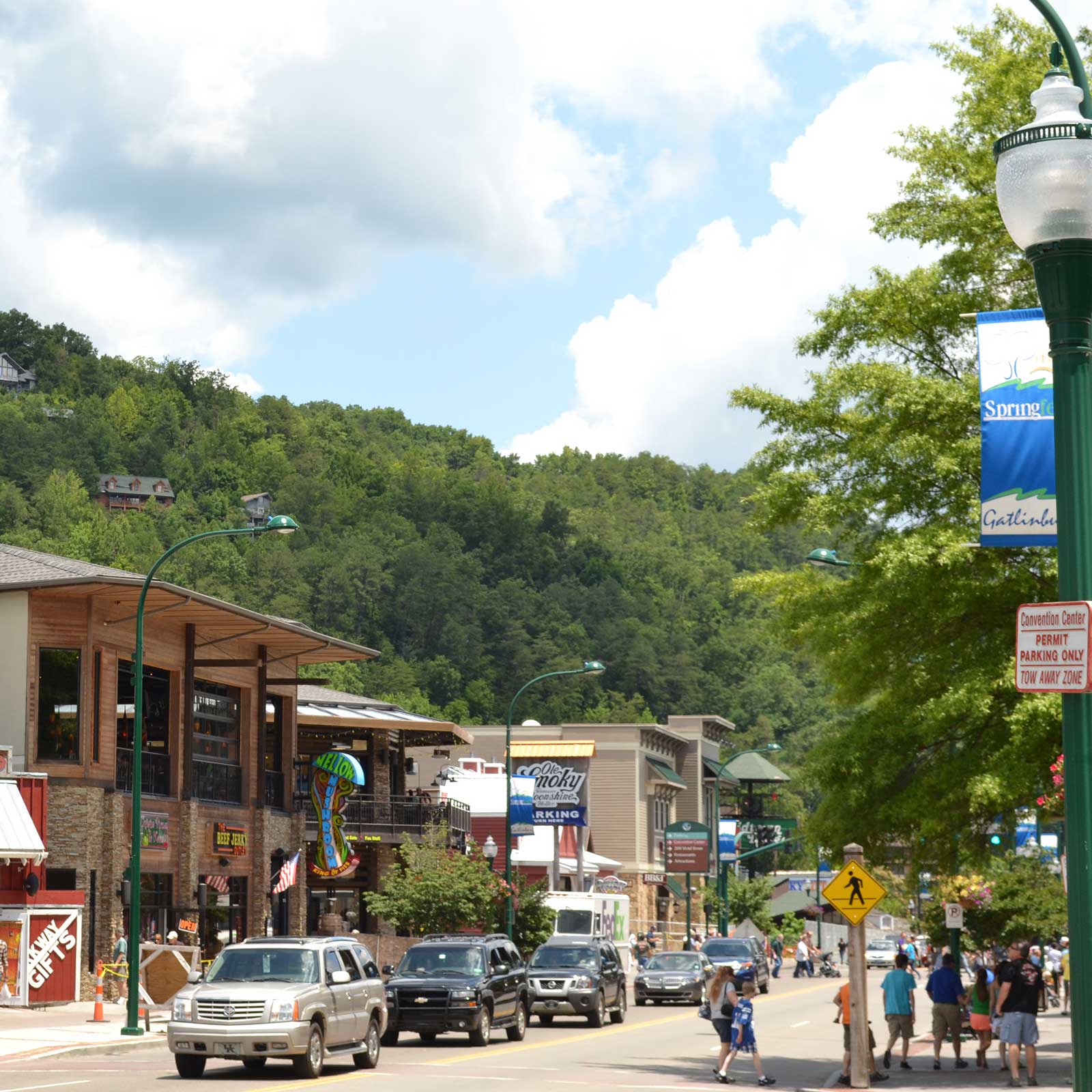 Area Links
A Smokies Wedding – Featuring some of the finest wedding services in the Smoky Mountains, A Smokies Wedding is a full collection of Gatlinburg and Pigeon Forge area chapels, accommodations, and bridal specialties. Start here when planning your Smoky Mountain wedding or vow renewal ceremony, or if you just want to have the most romantic time of your life!
Bennett's Pit Bar-B-Que – Locations in Pigeon Forge and Gatlinburg will satisfy your hunger wherever you are! With ribs, steak, and chicken, an extensive salad bar, and an in-season Good Morning! breakfast bar, there is something here for everyone. Dine-in, take-out, child's menu, and catering services available from the award-winning taste of Bennett's. Enjoy beer, wine, or your favorite cocktails in KJ's Saloon at the Gatlinburg location. www.bennetts-bbq.com
The Best Italian – Now two locations in downtown Gatlinburg serving your favorite pizzas, spaghetti, seafood medley, fettucini alfredo, ravioli, eggplant parmigiana and the list goes on. www.bestitalian.com
Big Daddy's Pizzeria – Big Daddy's Pizzeria features Wood Fired Brick Oven Pizza, the first of it's kind in Sevier County. Featuring all the greatest pizza that Wood Fired Brick Oven Pizza has to offer! 1820 Parkway, Sevierville www.bigdaddyspizzeria.net
Celebration! Dinner Show – This show is a family-oriented, fun-filled experience for people of all ages. It includes old-time games, magical makeovers, acrobatics, music and more! You'll even get to enjoy a four-course feast featuring mouth-watering items like creamy vegetable soup, homemade biscuits, pan fried chicken and signature macaroni and cheese. https://dinnershowtickets.com/
Chef Tony Catering – Catering for your wedding reception, corporate event, special occasion dining, or any event celebration. Enjoy gourmet recipes from experienced Chef Tony and professional staff in Pigeon Forge, Gatlinburg, Sevierville and other areas surrounding the Great Smoky Mountains of Tennessee. Choose from our gourmet sitdown dinner packages, buffet and hor d'oeuvre packages, or choose a custom menu to suit the taste of your guests.www.cheftonycatering.com
Dollywood – Dollywood features a unique variety of music, crafts, attractions, and rides, including over 40 live performances every day, over 20 different crafts and the fun and excitement of 30 rides and attractions for kids of all ages. Families and couples alike will enjoy sharing this unique entertainment experience. www.dollywood.com
Gatlinburg Arts and Crafts – The reason the city is here – The Arts and Crafts Community is famous throughout the country as being the largest collection of independent artists and artisans in The U.S. Potters, painters, broom-makers, fine restaurants, sculptures, sketchers and incredible stores of all kinds could take days to see in full. https://greatsmokyartsandcrafts.com
Murder Mystery Theater – A lot of theaters in Pigeon Forge offer to give you one heck of a good show, but only one theater in Pigeon Forge offers interaction with the show. Enter the Murder Mystery Dinner Show on Teaster Lane, just across the street from the Pigeon Forge Crossing Mall. In this theater, the show happens not on stage, but all around you. There are three shows shown seasonally, along with a four-course meal to "die" for. If you want something truly different as a live entertainment memory to go home with, here it is. Make your reservation today at www.murder-mystery-theater.com
Ober Gatlinburg – An icon in the large roster of attractions in Gatlinburg, Ober has been a site for many things for over 40 years in the city. In the winter time, it's the only place for miles around to go for skiing, snowboarding and ice skating. In the warmer season, it's a mountain-high family fun park with mini-golf, arcade, park rides, shops, indoor ice skating and more. www.obergatlinburg.com
Pancake Pantry – When you drive down the main street and, at any given day during the morning, you see a line from the outside of the door extending around to the inside of the Village just to get in and EAT, you know you're looking at the best pancake restaurant in the city! Chocolate chip pancakes, sweet potato pancakes, cherry waffles, pecan waffles, western omelettes, breakfast cereals with banana slices and much more! www.pancakepantry.com
Ripley's Aquarium of the Smokies  – Spend an afternoon of entertainment and education at the new Aquarium located in downtown Gatlinburg. You'll see and hear about thousands of species of underwater life and find great souvenirs. People of all ages will enjoy the self-guided tour. Open everyday of the year at 9AM. https://www.ripleyaquariums.com/gatlinburg/
Smoky Mountain Winterfest – Join us in the Great Smoky Mountains of East Tennessee as Sevierville, Pigeon Forge and Gatlinburg kick-off winter fun in the Smokies. Winterfest brings family fun activities and great lodging discounts. www.pigeonforgewinterfest.com
Titanic Museum – Who would've expected the Titanic would end its legendary journey here in Pigeon Forge? A major surprise hit if there ever was one, the Titanic Museum is not only the coolest museum in the city, it is a center for special events and seasonal activities in town too. See everything they have going on at www.titanicpigeonforge.com.
The Island in Pigeon Forge – One of three city "squares" in Pigeon Forge, this one is definitely a hot ticket for those who enjoy awesome food, live entertainment, arcades and views of the mountains. This is the home of the enormous Smoky Mountain Wheel you saw on your way into town and, yes, the views it gives you from there are amazing as well. Parking is free, convenience is easy, what more do you need? Check out The Island next time you're in town! www.islandinpigeonforge.com.