One of the many things that make your vacation great — especially in the winter — is the availability of coffee shops in Gatlinburg that offer hot beverages. There's nothing quite like enjoying a hot chocolate or cup of fresh coffee when you're craving something warm on those chilly walks downtown. We can show you 5 places that'll do more than just get rid of the chills with their coffee and other delicious beverages!
1. Coffee and Company
Coffee and Company​ is located in The Village, and they have built a pretty devoted following, due to their passion for brewing only the finest coffee beans. Of course if you're not a fan of straight up regular coffee, that's no problem either. They not only have a good variety of flavored coffees, but they also make a mean hot chocolate. We'll tell you that it hands down beats anything you can buy in the store!
2. Burg Coffees
Located in the Reagan Terrace Mall area, ​Burg Coffees​ is another one of the great coffee shops in Gatlinburg to find a hot beverage. Like Coffee and Company, you can also find drinks such as lattes, cappuccinos, and mochas. If you want an extra boost, get yourself a Red Eye or Black Eye. These aren't a result of getting smacked in the face; no, they're just espresso added to your coffee for your caffeine needs!
3. Village Cafe and Creamery
This is our second shop featured that's located in The Village. The appropriately named Village Cafe and Creamery​ is a great place to get a hot drink. You'll have to walk around a corner in The Village to find it, but we're listing it so you won't ignore it. Their coffee beans are roasted locally so you know you're getting a fresh and quality drink. They also have hot teas, seasonal cider, and hot chocolate for a nice variety of soothing flavors!
4. Starbucks
Not all coffee shops in Gatlinburg have to be local for you to visit. In fact, ​Starbucks​ is conveniently located right on the Parkway for you to stop in and get your favorite caffeinated fix. Their success has just as much to do with their quantity of shops as it is the quality with which they deliver. If you're a regular Starbucks visitor, you'll be happy to give the one here a visit on your vacation as well!
5. The Donut Friar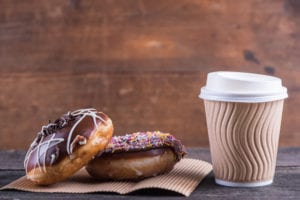 Coffee and donuts are a combination that make us all happy just thinking about the popular food and drink. Also located in The Village, ​The Donut Friar​ opens every morning at 5, so you can get there before the rush of donut fans and get a hot cup of joe too! Nothing warms the body and soul better than your favorite hot beverage getting dipped in by some of the best donuts in the entire Smoky Mountains!
We hope you have the chance to visit at least a few of these amazing coffee shops in Gatlinburg on your vacation. These are all within walking distance from our condo, so be sure to ​book your own rental​ today for a warm, welcome visit!